AEM Assets 6.1: More Digital Asset Management (DAM) Systems Features
Sharman Ghio, September 17, 2015
Adobe enhanced the functionalities in the Assets module for Digital Asset Management (DAM) in its recent release of Adobe Experience Manager (AEM) 6.1. These enhancements increase user experience, improve work flows, and much more.
This blog is a continuation of our blog post Hottest New Features in Adobe Experience Maager (AEM) Assets 6.1 Part 1.
For an overall AEM 6.1 overview you might also want to check out our AEM 6.1 - What's In It For You presentation which will help you answer the following questions:
Should we move to AEM 6.1?

How is it better than what we have?

How hard will it be to implement?

What are the risks of moving or not moving to the new platform?

How much time and money will this cost the organization?
Adobe knows that most companies need to employ multi-channel marketing, and this not only means digital marketing, but also offline and print as well. This includes catalogs, which continue to be powerful marketing tools used by many marketers today.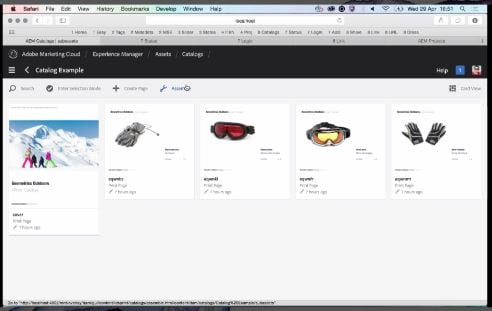 Companies spend a great deal of resources designing and preparing catalogs - selecting and adding images, and creating product descriptions, which take a lot of time and effort. However, the information in catalogs often changes and needs to be updated often, and expired assets need to be replaced. In AEM Assets 6.1, Adobe has created new workflows to make this process easier and more automated so that marketers can spend less time updating catalogs, and more time enhancing the user experience.
With improvements made in Assets 6.1 for synchronization and accessibility of product data and content records, information can be utilized in wide range of different channels, including catalogs and other designed documents. Using this product data, they can be inserted semi-automatically into materials that can be printed, emailed, posted on websites, etc.
Assets 6.1 allows users to design a print-ready catalog with InDesign, which it is fully integrated with. In Adobe Assets, you can create documents in InDesign for templates in Assets, apply links to assets and product descriptions in the templates, and then automatically extract them from an external Product Information Management (PIM) System, saving marketers time especially if they have hundreds of assets in their catalogs which need to be updated frequently.
Now, instead of sending a bunch of emails back and forth, collaborating with external partners is easier with AEM Assets 6.1.
With only few clicks, you can invite trusted external partners to participate in your creative workflows; then you can select and share your assets, which will appear in your partner's Adobe Creative Cloud environment as a shared desktop folder. The folder will automatically synchronize with AEM Assets.
This way is more conducive to productivity and efficiency, and it also helps to keep track of your assets so that they end up in your partner's DAM and not on someone else's hard drive.
Are you considering an AEM Assets implementation? Download our useful guide which will help your team think through key business challenges, identify priorities and eliminate potential headaches, ensuring a smooth and sane transition.
You can now call up your digital asset management system the same way you can order a pizza online - on demand!
Previously Adobe Assets was only available in two versions - an on-premise version, so that you can install and customize the software and manage it in your own data center; or as a managed service version, so that larger organizations can customize the software AND have it managed and hosted by a third-party, but still take advantage of the convenience of the cloud.
With AEM Assets 6.1, there is a third option - an on-demand version.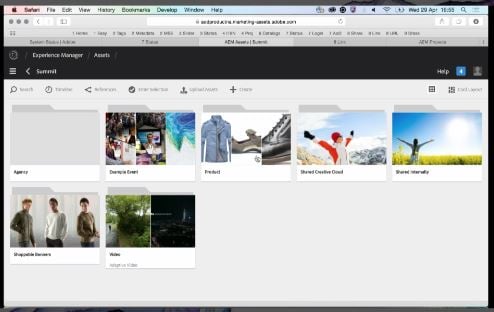 The new Adobe Assets on-demand version allows you to immediately start taking advantage of a more sophisticated solution to share and store your digital assets if you want to move from the clunkier system you may be using now like a shared drive or other storage platform. Adobe Assets 6.1 offers a convenient cloud solution for companies who don't necessarily have many customization requirements, but still want to take the storing, sharing and deliverability of their digital assset management to the next level.
It is built directly into the Adobe Marketing Cloud software as a service (SaaS) infrastructure, similar to how Adobe Social or Adobe Campaign work. It increases usability and accessibility for more companies without needing to take on the responsibility of hardware or IT management.
The Cloud makes everything more convenient. In The Hottest New Features in AEM 6.1 Assets Part 1, we discussed how users can open creative source files directly from AEM Assets into Adobe Creatve Cloud tools such as Adobe Photoshop and Adobe InDesign desktop applications without interrupting workflows or needing to install extra software.
Users can now also directly access Asset collections right form their desktop through their Creative Cloud account or by using the Companion app. AEM Assets can easliy be mounted from a desktop or laptop. And just like in an external or network drive, assets will appear right in Finder (Mac OS X) or Explorer (Windows) for mega accessibility.
Have you ever seen a web advertisement, whether it be an online banner ad or video, and liked what you saw and were interested in making a purchase? Then you clicked on the ad and it took you to a website with a bunch of other products listed for sale, and you had to search for what you were interested in?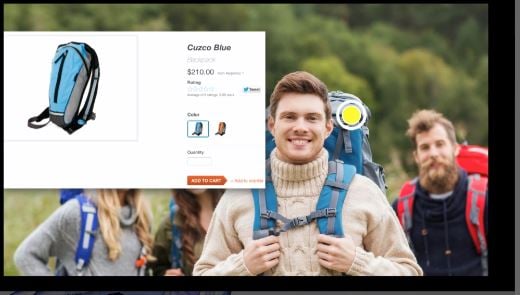 With AEM Assets 6.1, Adobe has streamlined this process by leveraging Dynamic Media and Hot Spots. Now when someone sees an ad, they can click right on the item they are interested in, and be brought to the asset to get a closer look at the product, the description, and the price. Then the item could be placed in a shopping cart. You can learn more about this from the recording of our webinar: DAM at the Speed of Business - Helping ASICS Run Faster.
If you ned help upgrading to Adobe Experience Manager 6.1, Adobe Assets 6.1, or implementing a new Digital Asset Management (DAM) platform, get in touch
Topics: 3|SHARE Insider, Adobe Experience Manager, Digital Asset Management (DAM), Upgrade