A Brief on the Creative Brief
Paul Legan, June 23, 2022
A client has a request. An internal department has come up with their next big idea. The product team has a launch coming. These are a few of the many situations that result in a request to a creative team. And, when 3|SHARE asked about the biggest pain points in the creative process, we learned that even before a project even begins, this is where they start.
Depending on the organization, the process varies but most creative work starts with the submittal of a creative brief or less formal request format. This sounds simple but we found out that what should be the easiest part of the process has become difficult. Why?
As mentioned in our Top Creative Issues article, only 61% of teams surveyed have a process. The good news is that when a process exists, 88% of the time a tool exists to manage the process. This sounded promising until we dug in a bit further. It turns out that 70% of the time, when there is a tool in place, it is not the only way requests come into the creative team! Requests seem to come from everywhere making them hard to track, hard to analyze and hard to turn into a project.
How do requests come in? Survey respondents gave us a list!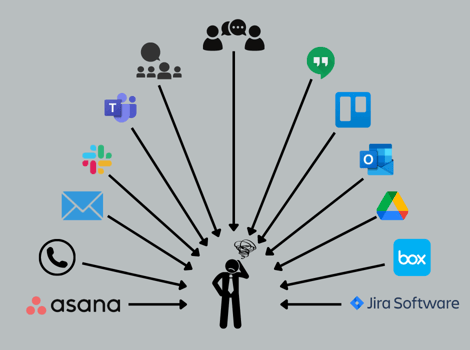 Messaging apps (Microsoft Teams, Slack, Google Chat)

Trello

Google Drive

JIRA

Asana

Box

Email

Phone calls

Meetings

Other informal verbal interactions
This means that the information received by teams is inconsistent and the problem of "lack of clarity around requests" isn't a small one.
If this sounds like your organization, don't worry. You can fix this. The solution will seem involved at first but once you create a process people can start following, and enforce the process, work will get started more easily and everyone will benefit.
What should you do?
Identify the types of requests you receive and the information you need to complete work related to those requests.

Determine how you want to receive requests. We recommend centralizing this to one tool. Adobe Workfront is a great holistic solution to manage your creative process and we'll talk more about that below. Otherwise, Google and Microsoft offer forms if your team uses their platforms. If you use a took like Jira to manage work, a form with a Zapier integration can be used to create a ticket in the system directly. If you need to go with email, providing a template to your organization can improve the information you receive.

Educate the team. Let requestors know you have a new process, inform them of the benefits of following the process and when people do not follow the process, respond to their rogue request with kindness. Remind them of the new process and ask them to submit their request via the process.
We mentioned Adobe Workfront above. In our experience, you may need to use complex form logic or multiple forms to address all request types. In Workfront, one or more forms can be created which require all the information needed in order for the creative team to receive a complete request. The team can determine the forms' text and logic and implement it themselves. Enquiries about the request can be made via Workfront so all interactions and updates are in one place. In addition to request intake, Workfront can manage the entire workflow through project creation, approvals and finally delivery.
Basically, Workfront will provide the mechanism for anyone who needs to easily make a request and then to the team as they complete the work. Once a request is made, it can be assessed and turned into a project with resources assigned or can be placed on a backlog. Either way, everything is in one system. Since resource management can also take place in Workfront, tasks can be prioritized for teams reducing friction around what team members should work on next.
This video is a walkthrough of how Workfront custom forms can be used to intake creative requests and manage approval workflows.
3|SHARE can assist your team with cleaning up the creative process. Contact us to learn more about our assessments as well as how our expertise in Workfront and Adobe Experience Cloud can benefit your team.
Topics: Digital Marketing, Creative Process