Top 10 Creative Process Issues
Paul Brandwood, June 8, 2022
3|SHARE launched a Creative Process Survey to agencies at the end of 2021. We were interested in learning more about use cases of the end users of Adobe Creative Cloud and the Adobe Experience Cloud solutions we implement. One of these solutions is Adobe's Workfront, a robust content process tool that seeks to be one place for creative teams to go to manage their creative process workflow from creative request through approvals and distribution of the final deliverables.
Participants in the survey included project managers, creative directors, designers, and account managers. They ranked ten of the top issues that they face in their day-to-day work and here is how they fell into order.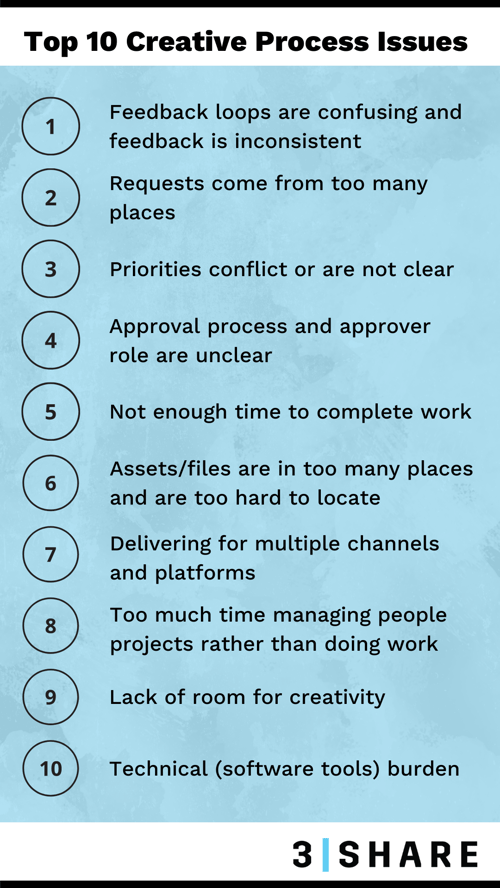 What does this tell us? For those on a creative team, managing a creative team or working with a creative team, there are opportunities to make the work more efficient and a better experience.
Besides the issues mentioned, multiple respondents added some additional pain points to the list. They are:
Lack of clarity around requests

Deficiencies in software/tools available

Lack of a common language amongst teams and conflicting direction or ways of working between clients and teams.
Looking a little deeper at the data, we were intrigued by the numbers. The below is us just getting started. Look out for subsequent articles where we'll get into more details in each area and provide our recommendations.
Making a Request
Depending on the organization, the process varies but most creative work starts with the submittal of a creative brief or other type of communication asking for certain deliverables.
Here's what we found out:

61% of respondents said they have a process for creative work. Of those, 88% use a tool to intake request. For many, the tool is NOT the only way to intake work. In fact, 70% of the time when there is a tool in please there are other ways people can make requests of the team causing frustration and confusion.
Delivering the Work
Once work is assigned, a major pain point is prioritization. Though only 10% of respondents said they have no idea what their own priorities are daily, the said prioritization on a project level in their organizations is unclear. This creates issues with expectations and deadlines. With 24% of teams working with external agencies and clients, prioritization becomes even more difficult.
Is this approved?
Getting work approved seems to be the most cumbersome part of the creative process workflow. Almost 50% of those who responded to the survey said that they did not know who the approver is on projects!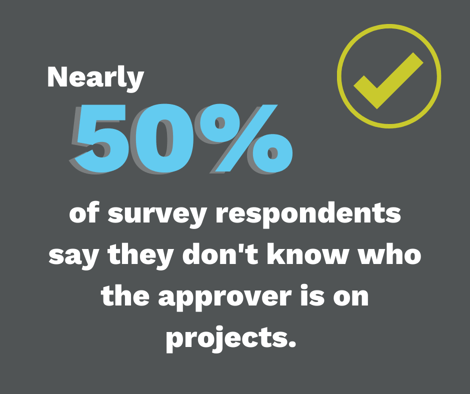 Where is that file?
Throughout any creative process and especially at the end, files are shared for use. Similar to there being multiple request channels, there are also various file systems that teams manage and as more agencies or third parties are added to a single process, the issues of where files are stored, naming and versioning can all be problematic.
What can be done?
Problems surrounding creative processes can be complex and vary by organization but the solution can be simple. Adobe's Workfront is a tool that centralizes all functions from request to file storage to approvals into one place. Workfront also integrates with other systems and Adobe Creative Cloud tools. One tool to solve all of the issues may sound too good to be true and that's understandable.
Can a tool really solve a process with so many issues? Not without teamwork and planning up front to complete a Workfront implementation that includes the forms and workflows needed to address the team's issues and reflect the desired process. One way to handle this is to seek the help of professional implementers like the team at 3|SHARE to analyze processes and help with set up. Once the Workfront setup is in place, the team needs to adopt the usage of the tool.
As one person who took the survey said, "The internal problem needs to be solved first before solving problems with external partners - there will always be someone internally that counters you in front of external partners causing more confusion."
In future articles, the 3|SHARE team will do a deep dive into a few use cases looking at the pain points mentioned through the lens of Workfront. We'll provide more insights into:
Managing project requests

Individual and team prioritization

Design and content reviews and approvals

File sharing and storage
If you want to talk about your creative process workflow or learn more about Workfront or how you can add other Adobe Experience Cloud products into your ecosystem, contact 3|SHARE.
Paul Brandwood is the CEO of 3|SHARE. Paul is in big support of the company the company's culture and its focus on enabling each person to maintain work life balance.