What's New in Adobe Experience Manager (AEM) 6.1: Release Notes & More
Sharman Ghio, May 12, 2015
Here are the top 10 new features you can expect from Adobe Experience Manager (AEM) 6.1:
1. Are We There Yet?
AEM 6.1 assures that you will use fewer clicks to navigate around the tree hierarchy. You will now be able to use keyboard arrow buttons and shortcuts throughout the site structures using the Columns view.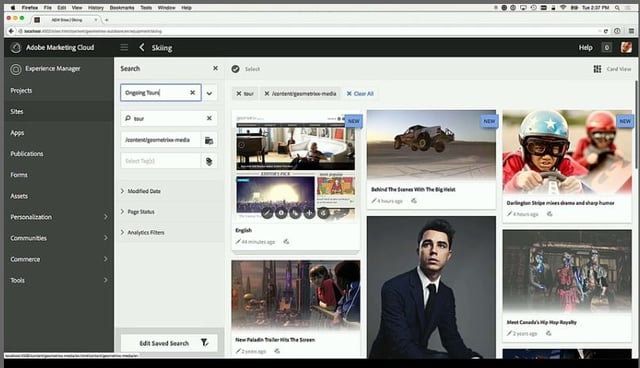 Additionally, to find specific pieces of content, simply use the Search function; searches can be saved to find the same things over and over again.
Another time-saving feature being added to 6.1 is that users will be able to open the Page Properties of multiple pages so that a Tag can be added to them at the same time.
Plus, while users are editing a page, they will be able to switch between different edit modes using keyboard shortcuts!
2. Create Continual Cross-Channel Experiences
Adobe recognizes that content is expensive to produce - it takes many resources to create and is a lengthy process, and they want to make it easier for you to reuse your content more easily in order to maximize its value.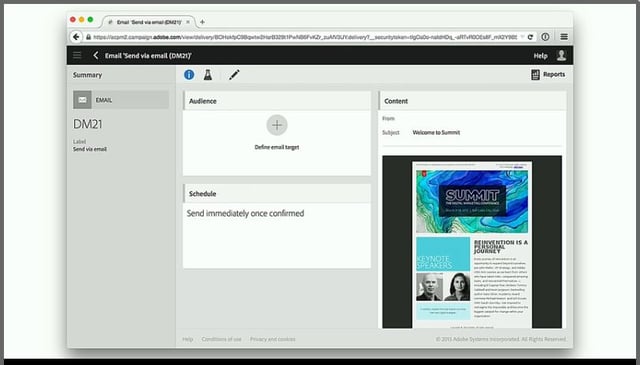 Now, with a better integration with Adobe Campaign, content can be used seamlessly across multi-channels - web, mobile and email - from one single platform and one single interface. Without recreating it, the same content is referenced in a marketing activity from an asset repository until it is used in a campaign.
3. Queue Up Your Translation Savings
Adobe has something special for those companies who manage global websites with different languages.
You will be able to manage the translation process right from the AEM interface - vendors, projects, contact info., costs, workflows, etc.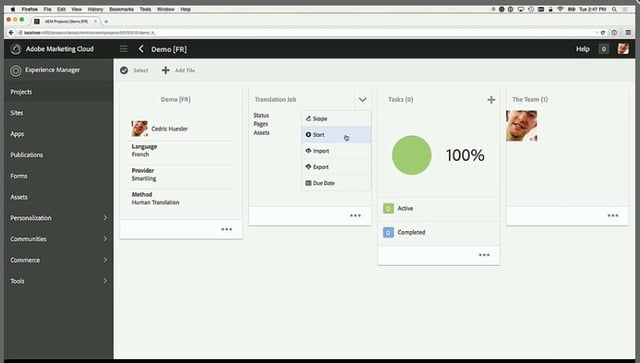 Using the reference rail, you can look at different pages and see what languages they have been translated into. If you see that a page or a part of a page needs to be translated into another language, you can use a drop down menu to create a new translation job.
You can project-manage it by looking up vendors (those partners who have been integrated with AEM and have been configured with the pages of your site that need translating), as well as the project scope and costs. Select a vendor, start the job and put it into a queue, then prioritize it. This can also potentially save you money by using memory-based technology.
4. Make Goal-Driven Decisions
Break down big data into smaller data to see if your content is performing well from new integration with Adobe Analytics. This allows you to make better decisions about your content including goals, KPIs, and other metrics.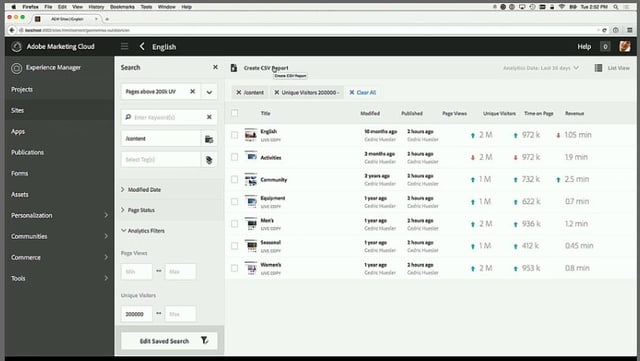 Extra columns you configure - the calculated metrics which matter most to you - provide data fed straight from Adobe Analytics. Not only display these values, but also search on them to see what is meeting your goals and what is not. Export them into an Excel spreadsheet.
Complex reporting is still performed in Adobe Analytics, however, you can now track key KPIs and calculated metrics right from the AEM interface to help authors make adjustments and changes to the content to help increase performance.
We've assessed the features of AEM 6.1 and rolled it all into a nice presentation: AEM 6.1 - What's In It For You?
5. Build a Journey and They Will Come
AEM 6.1 will provide developers with more tools to increase content personalization whatever journey visitors may take via a website, email or mobile app. AEM 6.1 can be used to create, target and assign personalized content to specific audiences, markets and product launches, as well as to test it to see what works and doesn't work.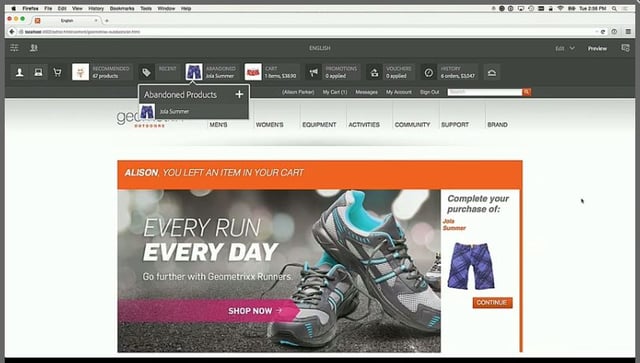 Each person's journey is unique, and is not predetermined into a rigid set of steps they must take before completing their journey (purchasing a product). All of these different journeys can be simulated to see how a site performs based on each scenario.
Should a visitor select a pair of shorts and leave it in their shopping cart, for example, the next time they visit the site they can be reminded of those shorts by seeing them on the first page, with a short message asking them if they want to complete their purchase.
6. Be On Target
Additional Adobe Target integration brings more streamlined capabilities into the AEM 6.1 interface to increase content reuse. Content should be able to be reused in various experiences targeted to a number of audiences in different parts of a website. Create content once - refine, reuse widely, and reap the savings and benefits of the content.
The Adobe Target experience workflow is now brought into the AEM 6.1 user interface by simply changing into the Targeting Mode.
You can create a new Activity from any page and an Experience by selecting a component on the page, the content to be used, the audiences that are to be targeted, and the priority and time frame.
7. Do More With Apps
Mobile apps play an integral part of our lives. We check the weather with an app, reserve a table at a restaurant or a room at a hotel using apps, and buy products and more with apps. AEM 6.1 enhances its app management capabilities so that digital marketers can now better oversee their mobile app initiatives from one central repository.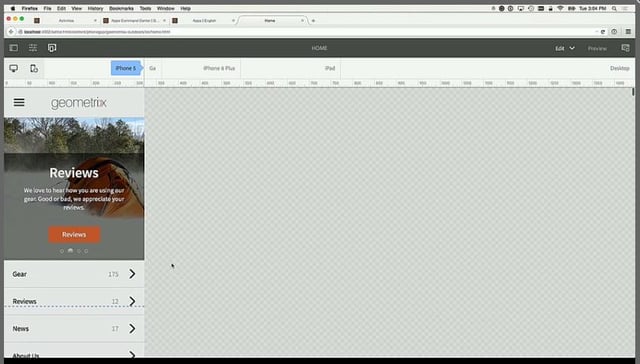 With AEM 6.1, users will be able to open app content through the interface, and preview apps to see how they look on different devices (this feature is called Responsive Preview), and edit the content. You could also configure the app content and properties for store submission.
Additionally, you can get key statistics from Mobile Analytics in Adobe Analytics, and also build the software. If you download the PhoneGap Enterprise app from the app store and connect it to AEM, you will be able to preview your mobile app from a device to see how it looks from a phone or tablet.
Another fantastic feature added to AEM 6.1 is Push Notifications. These can be created directly from the mobile services tool; from a new UI built within AEM; or from Adobe Campaign. The created Push Notifications can then be sent to users - the users can be targeted using Adobe Campaign functionality.
8. Design to Web
Here is a new feature specifically for developers. In order to save time and take out some of the manual work in designing web pages, AEM 6.1 is now better integrated with Adobe Creative Cloud.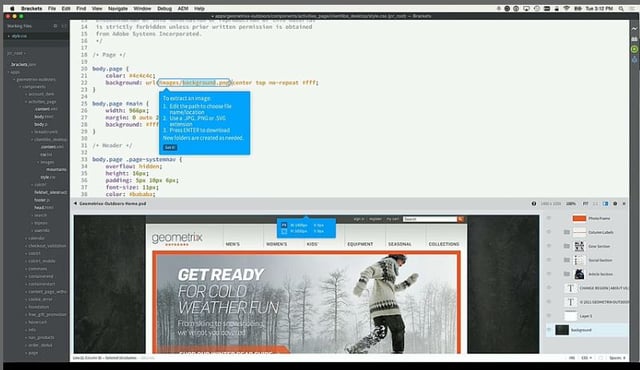 Using an open-source developer tool known as Brackets, information such as fonts, colors, gradients, sizes, distances, relative positioning, spacing, etc. can be extracted from the design of a loaded PSD file. This allows a component or template to be coded from it.
This new feature is not only important for initial template creation, but also for ongoing content tweaking, editing and updating at the component level.
With this new feature, web developers can save a tremendous amount of time on design projects; projects which previously may have taken days to complete instead can now be finished within hours.
9. Are You Truly Responsive?
Adobe wants you to know that mobile sites are now dead (in case you didn't already know). Responsive is the new black!
In this age of digital marketing, every site must be responsive. If they are not, your customers will go to your competition.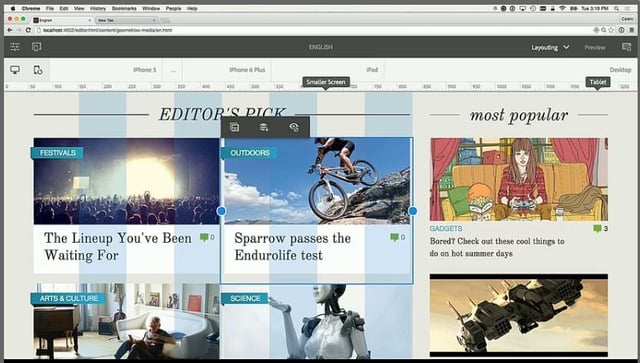 With a new feature in AEM 6.1 called the Responsive Grid, marketers can be more independent and create totally responsive pages without the need for code.
By using the Layouting Mode, authors can flexibly align components, and control the width of components by device (phone, tablet), within certain defined parameters within the Responsive Grid. The site must first be designed to be responsive before it can be put into the Layouting Mode. And governance features allow restrictions to be placed on a per-author basis regarding which authors can make changes in this mode.
10. Behind the Screens
Along with the large number of mobile apps people use today, the number of screens used at venues such as store locations and hotels has proliferated as well. AEM 6.1 wants digital marketers to be able to enhance their user experiences with a new feature called AEM Screens, which allows screens to be connected with mobile apps.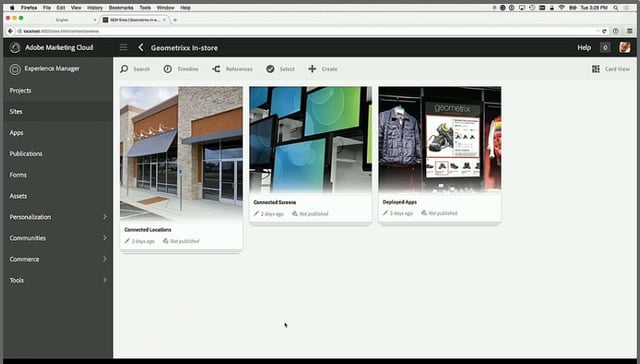 Using similar technology as AEM Apps, you build and manage the customer experiences in the screen from an app. You basically deploy another "site" in AEM where you can manage locations, connected screens, and the app you deploy to a screen. Then use Adobe Analytics to track what is going on with the screens, and Adobe Target to test and personalize them.
The phone can be compared to a "remote control" that interacts with a screen. Using an SDK in the app, you can add extra buttons that only activate when you get close to a screen.
Want this content in a tidy presentation? Download our overview AEM 6.1 - What's In It For You?
Curious about Adobe Experience Manager AEM 6.2? Download our no-nonsense guide What's New in AEM 6.2.
Embarking on an AEM upgrade project? We've got help for that too - AEM 7 Step Upgrade Checklist.
Our company is 100% dedicated to ensuring our customers success on Adobe Experience Manager through consulting, training and managed services. If we can be of any assistance, please get in touch anytime.
Topics: 3|SHARE Insider, Adobe Experience Manager, Upgrade