Are You Ready For The 'Experience Wave'?
Sharman Ghio, April 7, 2016
Fresh on the heels of Adobe Summit the industry is popping with phrases like 'Experience Wave' and 'Becoming an Experience Business'. During his keynote Brad Rencher, executive vice president and general manager for digital marketing business at Adobe, said "every company should be obsessed with the quality of the experiences they are delivering to their customers". This state of mind is nothing new for marketing leaders who adopted the customer centric mind-set years ago. Still, the tidal wave of experiences, from UX to CX to DX, involve major transformations for most companies, many of which continue to struggle with how to keep up with the ever changing digital landscape.
This transition to becoming experience businesses exciting and opportunistic on many levels. Adobe demonstrated at Summit that they not only have the vision for what they call the "Experience Business" wave, they also back it up with a great cloud based platform (where marketing & tech can coexist, dare I say, peacefully). Announcements were also made for Adobe.io, APIs which make Marketing, Document and Creative Clouds usable programmatically, and a new Device Co-Op mechanism that helps identify users across multiple devices while ensuring high levels of privacy.
This shift in focus also brings with it the challenges and opportunities to uncover the biggest hurdles that may be holding an organization back from true customer centricity. Some of the most common issues are lack of ownership for the customer experience, operating in silos, and talent shortages. In order to thrive in the digital world, customer centricity is a mind-set that companies need to adopt throughout the entire organization - not just in marketing.
Anticipating the need for a solution for companies that seek to become fully digital businesses and thrive in the 'Experience Wave', this year's Adobe Summit also provided a venue for the unveiling of Publicis.Sapient; the first purpose-built digital transformation Platform designed to help clients solve for the challenges of today's digital world. Following Publicis Groupe's acquisition of both 3|SHARE (now part of DigitasLBi) and Sapient in 2014, this event brought us together with Razorfish, SapientNitro and Sapient Consulting to exhibit as a family of brands for the first time. It was an opportunity for us to meet our peers from the other organizations and learn how each brand supports the Platform. And, it wasn't without a good cause - for every badge we scanned Publicis.Sapient provided a donation to Girls Who Code, with the final donation amounting to $1,500.00.
The uniqueness of the Publicis.Sapient Platform is the way it connects digital leaders Razorfish, SapientNitro & DigitasLBi with the deep experience of industry experts Sapient Consulting, fusing two paths to problem solving – Digital Solutions and Business Technology Consulting. Through the agility of the Platform each of these companies can configure as needed across the Publicis.Sapient brands to address our clients' business transformation problems that are bigger than any one brand could address on its own.
It's exciting to be a part of something that will truly have an impact in helping companies transform. Adobe Summit provided an excellent vision, and now as part of the Publicis.Sapient Platform, 3|SHARE has the ability to help our customers become fully digital businesses.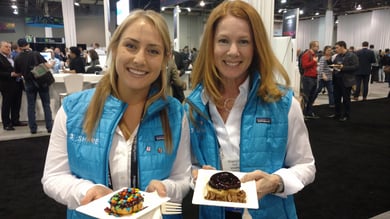 Another positive about the show was that there were great snacks in the Community Pavilion. Next year I'm hoping for a double espresso with my doughnut. Adobe, are you listening?
---
Topics: 3|SHARE Insider, Web Content Management System, Digital Marketing