AEM Community is the Heartbeat of EVOLVE 2016
Jess Moore, September 21, 2016
Most conferences are about listening. Listening to keynotes, listening to breakout sessions, listening to vendors. EVOLVE is different. It's not about just sitting there listening and taking half-hearted notes. It's an active conversation. You are the conversation. The Adobe Experience Manager (AEM) community is an awesome, tight-knit group that shares and learns from each other, and this is what drives EVOLVE.
For those of you who aren't familiar with EVOLVE, I'll give you the 20 second spiel: EVOLVE grew out of the CQ Conference Day Software used to put on before they were purchased by Adobe. When that conference "bit the dust" with the buyout those of us at 3|SHARE saw a gap in the AEM world and set out to fill it. We started EVOLVE in 2013 and it has become THE place where digital marketers and technologists come to share and learn about how to build successful brands using Adobe Experience Manager.
People come to EVOLVE from all over the globe, and it's grown to be the largest and most comprehensive AEM event in the world. We're pretty proud and humbled to be a part of such an amazing community of passionate people who truly care about helping each other and sharing their experiences with AEM.
EVOLVE is so important because it gives the AEM community a place to get together and share knowledge about a technology that's always growing and changing along with the business's it supports. The time spent at the conference makes everyone a little smarter, better at their jobs, more connected, and hopefully a chance to blow off a little steam (we sure do love to throw a killer party!). See for yourself - this album highlights a few of our favorite photos from the 2016 conference.
We wanted to give an authentic look and have real discussions that would add value to those using the AEM platform. It didn't matter whether you were on the business side, marketing, or a technologist. Come to EVOLVE to learn, teach, evangelize, and enjoy yourself in a cool setting.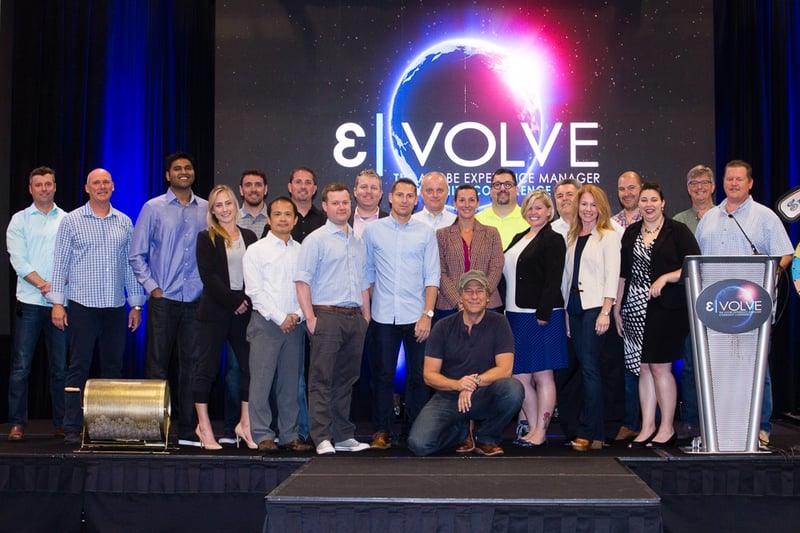 The 3|SHARE team with celebrity keynote speaker Mike Rowe
We wrapped the 2016 conference on August 31st and I feel like we took things up a notch this year. First, we had the best celebrity keynote I've ever seen delivered by Mike Rowe, and based on feedback everyone agreed. You know him best from Dirty Jobs and the Ford truck commercials. He's also the Creator, Executive Producer and TV Host of Somebody's Gotta Do It and runs the mikeroweWORKS Foundation.
Mike was witty, engaging, and real. His presentation focused on something that epitomizes EVOLVE: authenticity. He's had a career where he's done many different things, and it's taken him to a lot of different places. Marketing has played a big part in that, especially when it comes to his work with Ford, which is hard to miss.
The other way we cranked it up was by getting back to the roots of EVOLVE. The community. That's why people come, that's what they expect, and we wanted to double-down on it. So, we introduced the Community Lounge which is a beautiful dedicated space for everyone to meet, network, and share their AEM experiences. It all started with this community, and we want to make sure it stays that way.
As always, the AEM community brought the heat with some fantastic technical breakout sessions. The feedback was great, especially for Cat Reusswig from Time Warner Cable delivering a great session around their AEM implementation, focusing on teams and processes. Learning the benefits around upgrading to AEM 6.2 from our own Thanesh Sadachcharan helped people a ton, as did the presentation on large deployments by Anshul from Symantec. The value and combined knowledge from all the sessions was just insane – check out all of the presentations.
As great as the sessions were, the rooftop party on the Hard Rock probably would have made EVOLVE a success all on its own – a killer time.
I'd be remiss if I didn't also mention our award winners for this year. These organizations and people are doing amazing things with AEM: Innovation Award winner Rackspace, Community Award winner Cat Reusswig, and the Humanitarian Award winner, Stanford University. Congrats to all three, well deserved.
The final piece that pushed 2016 over the top was our awesome sponsors. We couldn't do it without their support and help. Huge thanks to SapientNitro, Adobe, translations.com, Elastic Path, Youngsoft, Computer Futures, mongoDB, and CMS Wire.
So, where do we go from here? Glad you asked. I see EVOLVE continuing to be a major player in fostering and growing the AEM community. We're going to double-down on the community aspect of the conference because honestly, that's what we're here for. We'll also go deeper into DAM and mobile solutions based on where everything is, and that's what the community needs. At some point, we'd like to take this thing on the road and go international. 3|SHARE is an international company – and growing quickly, so it makes sense to hop on a 12-hour flight and meet our AEM friends around the world.
For those of you who joined us this year – thanks for coming and making it possibly the best year yet. For those who couldn't make it, we'll see you next time. It'll be awesome … because of you.
Topics: Adobe Experience Manager, Evolve, Digital Marketing