AEM-JECIS - A new Era in building Commerce Experiences begins!
Giancarlo Berner, July 16, 2019
New Era? Yes, and I don't mean Adobe's acquisition of Magento! I am talking about a commerce concept in which marketers/authors/superusers can modify and configure the complete commerce environment!
'Marketers control the complete commerce environment? No way this will ever happen. Really?' Let me explain.
Challenges of AEM Commerce Integrations
We can (hopefully) agree that CMS solutions are the most convenient way to create web experiences. For the past 20 years AEM (formerly Communique or CQ from Day Software) has empowered authors to manage and control web content. This content-centric approach put Adobe AEM into the driver's seat for the best CMS solutions, but AEM has been limited by the lack of commerce capabilities.
E-Commerce solutions on the other hand have been built with products and catalogs in mind. However, building a compelling web experience can be quite a hassle and typically an engineering process.
Hence it may come naturally to say: "Let's integrate the best CMS with the best E-Commerce solution". But at what cost?
Commerce content and functionality are not really "moving parts" but instead are fairly static, unlike marketing-driven web content. In these circumstances, it might make sense to invest in an integration platform.
However, for a content-centric CMS like AEM there is one big challenge with such integrations: The commerce content and commerce functionality sits in a different system!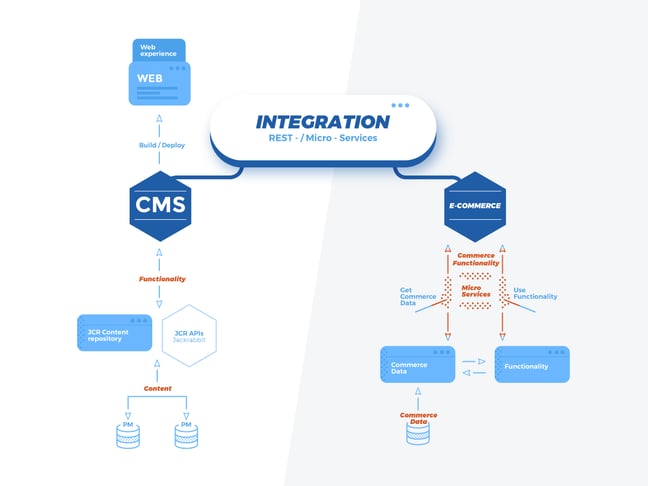 While it's a simple diagram, it shows the problem of content-centric CMS solutions: how can authors control commerce content and use commerce functionality? Shouldn't the content-centric concept be extended to commerce content - empowering authors/marketers to control/manage commerce content within their CMS?
---
Let's look at a small scenario and try to imagine the "ideal world":
Scenario 1 - Add a Property to the Commerce Experience
Marketing Meeting: "We need to add the costs-per-square-foot to our products".
Let's assume this property is missing in the commerce solution. How can we update the commerce solution? How long will it take? And what are the costs?
In an ideal world the marketing meeting should continue with:
Author (yes, author!): Let me add a new property costs-per-square-foot to the product profile. When done, you can add the values to the products you want. In the meantime, the developers will add the new field to the product description in the Commerce Experience.
Imagine this update happening in a few days! Shouldn't that be how commerce experiences are built?
---
Scenario 2 - Configure/Modify a COMPLETE Commerce Environment
Hospitality Marketing/Business: "We want to manage our rooms and our in-house boutique with AEM. How can we configure our E-Commerce solution to run two commerce stores?
This is how the ideal-world-solution should look like: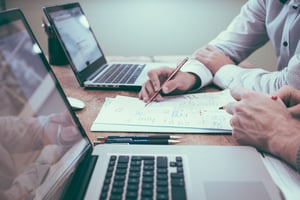 Author (yes, the author again!): Let our content-strategist define the commerce content for the rooms and the boutique. Myself, and the other authors will then configure the commerce environment by creating two stores and adapting the commerce content management to your needs. The development team will build the templates/components/bundles for you and the author team will build the commerce experience.
If example 1 sounds out of the ordinary, then example 2 just sounds crazy. Try solving both examples with the traditional cms/commerce integration process.
Shouldn't this be the way we use AEM to build commerce experiences?
---
It's Reality - A new Era in building Commerce Experiences begins!
In 2006 I built my first CMS/Commerce integration, in 2010 I introduced the content-centric commerce concept (yes, almost 10 years ago!) in 2016 I finished a first prototype and today I am excited to announce, starting in Q4, AEM customers will be able to:
install JECIS 2 - the JCR Commerce Framework - into AEM.
empower marketers/authors/superusers to modify the out-of-the-box commerce environment - adapt it, extend it, or even create a new one without writing a line of code.
develop templates/components/bundles to run the commerce experience.
use the JECIS API with the same commerce functionality like Magento, commercetools, Konakart and others, but as an extendable API not a "siloed" commerce engine.
JECIS 2 launching at Evolve 19, August 5-7, San Diego
If you want to see the start of a new commerce era, then join me for the AEM/JECIS presentation at Evolve 19 in San Diego!
Additional Information: info@jecis.com / www.jecis.com / https://evolve.3sharecorp.com
Topics: Adobe Experience Manager, AEM, Evolve19
CEO and Founder at Kleiber Digital