Adobe Summit EMEA 2023 Recap
Rabiah Coon, June 13, 2023
Adobe Summit EMEA 2023, held in London at the ExCel Centre, provided some of the 3|SHARE team a chance to meet in person for the first time in months whilst also enjoying face time with Adobe representatives, partners, and clients. From the Day 1 Keynote featuring Publicis' CEO Arthur Sadoun to the celebration that showcased Becky Hill to our final goodbyes at the end of Day 2 we all made the most of our time at the event and have a few notes to share.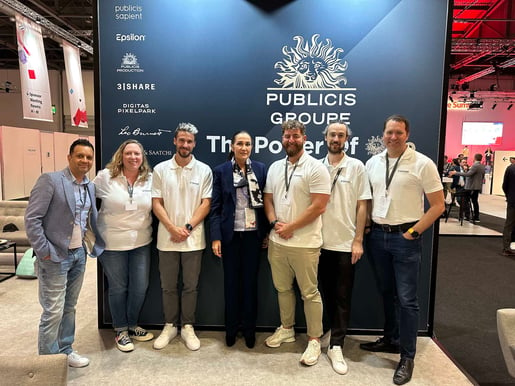 One highlight for the entire team was meeting Sylvie Ouziel, CEO of Shared Platforms at Publicis Groupe. Along with Sylvie, the team is pictured in the photo above (l-r: Shez Khan, Rabiah Coon, Martin De Munitegui, Sylvie Ouziel, Barrie Uquhart, Clemente Pereyra, Marc Fletcher, Hiten Patel (not in photo)).
Barrie Urquhart, Director of Global Alliances, had this to say about Adobe Summit, "For me personally, the best part of the event is the ability to really connect in person and have the discussions beyond work and business. In a world where AI and tech are swiftly taking over, it's vital to maintain personal human connections."
Adobe Summit offers a wide range of sessions sharing information on products, the industry and case studies. When not meeting people at our booth, our team had the opportunity to attend sessions, and a few stood out to us.
Sessions we noticed
You can expect one or two blogs in the future about some of what we saw but here are our initial takes on Adobe Summit Sessions.
Top Headless CMS Innovations for Experience Manager Sites - CKM12
Senior Developer Hiten Patel said, "This session was insightful in how Adobe has made a realisation that the current SPA editor does not achieve a great experience during authoring CF's. The new approach taken (Universal Editor) looks interesting as it allows you to edit CF's in-context, making authors' lives easier. Although not fully released yet, I'm excited to trial when it does."
Martin De Muniategui, our Solutions Specialist, was also very excited about the Universal Editor feature.
Next Gen Composable Services in AEM: Boost Performance, Conversion and Acquisition - CXM09
Hiten also attended this session and found it valuable saying, "This session highlighted how we can use Google docs to author AEM pages. Although on the surface it may not be practical and error-prone to administer for all AEM pages, it could be beneficial for some use cases."
PX: A Joint Adobe-Publicis Solution for Outcome-based Collaborative Production
This was a special presentation to all of us at 3|SHARE because it was held by Sylvie (pictured above) and Sergio Lopez Ferraro (EVP Global Head of Production at Publicis Groupe) regarding PX, the project that was announced by Arthur at the Keynote. This exciting effort brings together multiple agencies including 3|SHARE. It is the realization of what a Content Supply Chain can be for agencies and clients and we look forward to what's to come of PX!
Building a Content Supply Chain - the What, Why and How - CSC01
Personally, I was excited to attend this session. I'm a big fan of Lucinda Parish who was a presenter and enjoy learning more about Content Supply Chain and Adobe Workfront from her. I always pull away another insight from a conversation with you and listening to this case study was no exception. My takeaway was that it is possible to scale while adding efficiency with the right people, process, and tools in place.
3|SHARE is holding a webinar called Content Supply Chain 101 in June and it'll be available online after that. You can sign up or learn more at our Evolve with 3|SHARE page.
Keynotes
We all loved the Keynote talks. I found the call to all of us to know ourselves and to stay true to ourselves that Emma Thompson put out on Day 2 to be very inspiring. And, seeing Arthur Sadoun talk not only about Publicis Groupe but also about his own work to bring awareness to chronic illness at work was very motivational and made me proud to be part of Publicis.
The mention of AI and Generative AI cannot be overlooked. Adobe has made advances in AI which are seen in both Adobe Sensei and Adobe Firefly. 3|SHARE has talked a lot about AI recently in our blog and in our Evolve with 3|SHARE webinar series where you can see Part 1 and Part 2 of our discussion.
"Both keynotes were very fascinating and inspiring, especially the one with Artur. The sessions were very informative and created a great narrative of where the tech world is heading and the innovations made with respect to Gen AI. I also enjoyed meeting people from Digitas / Publicis Groupe such as Sylvie, Lucinda and Jake alongside running into a fair few old colleagues," was Hiten's take.
Final word
Shez Khan who is the Director of Client Services summed his experience up with these thoughts, "I most relished meeting clients, partners and friends alike to share our passion for digital transformation, and discussing the myriad of possibilities that are now open to us due to the advancement of digital technology. Understanding a client's goals and learning how and why these strategies are key to business growth, and then being able to work together and formulate plans to turn aspirations into reality is rewarding work."
If you met 3|SHARE at Adobe Summit or want to talk to us about your Adobe Experience Cloud investment now, get in touch!
Topics: Culture, Adobe, Adobe Solutions Partner, Adobe Summit, Creative Process
Rabiah Coon is 3|SHARE's Sr. Marketing Manager and former Project Manager. She loves the flexibility 3|SHARE offers employees, allowing them to work from anywhere. And, she enjoys working with clients and the great outcomes we acheive. Outside of work, Rabiah performs standup comedy and hosts More Than Work Podcast.