Adobe Experience Platform: A Stronger Customer Connection
Harsh Walia, December 10, 2019
A high-quality customer experience is essential for brands to strengthen relationships with their customers.
Per Forrester, "on average, customers who have a high-quality experience are 2.7 times more likely to keep doing business with a brand than customers who have a low-quality experience".
Another Forrester study confirms that customer experience is rapidly becoming a key differentiator for brands seeking to gain a competitive advantage. Brands must stay connected with their customers, who are rapidly learning and adopting a growing list of interactive channels and devices. To deliver the best experience possible, brands need systems that can quickly adapt and scale to an accelerating volume of signals.
Sync your Adobe Experience Cloud data for the best results.
The innovations in Adobe Experience Cloud allow marketers to stay ahead of their customers. Adobe's Experience Platform (AEP) was recently added as a new product, part of the Adobe Experience Cloud. AEP was purpose-built from the ground up with an open and extensible architecture to serve as a modern data foundation for building, optimizing, managing and personalizing customer experiences.
Today, marketers that are using Adobe Analytics, Adobe Target, Adobe Audience Manager or other Adobe Experience Cloud products have access to data generated from their connected digital properties. These marketers, in most cases, are using these products effectively and are likely innovating at the customer's speed... but they can do better!
AEP is a customer experience management platform with real-time customer profiles, continuous intelligence and an API-first architecture.
This allows marketers to make easy connections with existing Adobe products, while also having the ability to rapidly integrate with any other third-party platform. Once the marketers connect AEP with their Adobe products and other platforms, they will notice that they no longer need to log in to each platform to extract intelligence. Instead, they can log into AEP and use it as the only platform they need to slice and dice all of their experience data. If marketers are interested, they can configure AEP to automatically collect, synthesize and offer a single view of the individual's data that's coming in real time from all connected platforms. AEP does this by merging and applying de-duplication and survivorship rules to collected data. Which means all of your experience data in one place and available at real time. This is very powerful.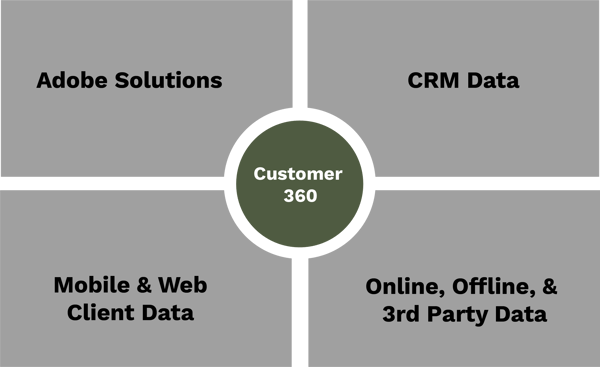 It's built on an open API (Adobe IO) framework and uses XDM (Experience Data Model) to organize its data. AEP exposes the full functionality of its platform for use by data engineers to build custom integration or enterprise-grade solutions. Data engineers can leverage the API and XDM to build integrations with non-Adobe solutions such as Salesforce or other platforms. These engineers can also build connectors and plumbing needed to ingest first-party and second-party data systems to further enrich the native Adobe-built unified profile or add to the data set that is already available within AEP.
AEP has multiple capabilities that will help marketing teams craft the best experience possible for their customer.
Data Pipeline & Semantics: An efficient streaming and batch ingestion feature with real-time management and control of all new data that is being piped into AEP. This allows marketers to have control over how data is used and managed throughout the customer experience management activities.
Real-time Customer Profile: The ability to have no latency view of the customer profile and allowing marketers to instantly and intelligently react to the signals received from the customer.
Data Science Workspace: This capability provides marketing teams with AI and machine learning abilities. This feature allows data scientists to build and train models right in the platform and turn those models to services that they can use to push actionable data to a customer profile.
Application Delivery: This allows marketers to take advantage of data in the unified profile, build segments and activate them for delivering relevant customer experiences.
Working with large sets of data to extract actionable intelligence is no longer a complex or time-consuming activity. With Adobe Experience Platform, marketers can finally tune their experiences from the breadth of data intelligence available at their fingertips. Once they do this, they'll deliver engaging customer experiences, with relevant messaging that strengthens a trustful connection with the customer for the brands they trust and love.
---
At this point, you may be wondering "How do I sync AEP with AEM?"
The answer is simple - reach out to our team of Adobe certified experts and we'll be happy to assist you! 3|SHARE is a Global Alliance Solution Level Partner, with over 1000+ successful Adobe projects under our belt. We've received the "Digital Experience Solution Partner of the Year award" in four of the past five years; and through our Adobe Center of Excellence, we're capable of delivering velocity focused solutions for Adobe Experience Cloud and beyond.
Topics: Adobe Experience Manager, Digital Marketing, AEM, Adobe, Tech, Customer Experience