What We're Reading Now at 3|SHARE
3|SHARE Team, August 16, 2017
We asked our team to send in their current list of reads - what we got back was no surprise. Our reading list reflects the true diversity of the 3|SHARE team and culture. From Argentinian cookbooks to classic novels, The Bhagavad Gita to comic books, historical novels to children's books - 3|SHARE covers all the bases. Take a peek at our current reading list and get inspired to crack one open! No pun intended… even though our favorite book from the list is a cookbook written by our CTO and Co-Founder Rich Brown "Cooking with Coors Light" (not for sale).
Comic Books & SciFi
Batman Rebirth Series - DC Universe
The Dark Tower 1: The Gunslinger - Stephen King
Deadpool vs. The Punisher - Marvel
American War: A Novel - Omar El Akkad
Carbono Alterado - Richard Morgan
The Walking Dead - Image Comics
Game of Thrones - (Spaninsh) - El Mundo de Hielo y Fuego - George R. R. Martin
Sita: Warrior of Mithila - Amish
Infinite Jest - David Foster Wallace
Guardians of the Halahala - Shatrujit Nath
Poseidon's Spear - Christian Cameron
Warriors of the Storm - Bernard Cornwell
Fiction
Truly Madly Guilty - Liane Moriarty
My Cousin Rachel - Daphne du Maurier
Adderall Blues - Brian J. Robinson
Lovecraft Country: A Novel - Matt Ruff
The Islandman - Thomas O'Crohan
The Brief Wondrous Life of Oscar Wao - Junot Diaz
Go the F**k to Sleep - Adam Mansbach
Non-Fiction
Surf Is Where You Find It - Gerry Lopez
Barbarian Days: A Surfing Life - William Finnegan
Once a Runner - John L. Parker Jr.
Black Mass: Whitey Bulger, the FBI, and a Devil's Deal - Dick Lehr & Gerard O'Neill
Without Reservations: The Travels of an Independent Woman - Alice Steinbach
Eruption: The Untold Story of Mount St. Helens - Steve Olson
The Journey Home: Autobiography of an American Swami - Radhanath Swami
Not Dead Yet: The Memoir - Phil Collins
A Short Life of Kierkegaard - Walter Lowrie
Joe Moakley's Journey: From South Boston to El Salvador - Mark Robert Schneider
A Pioneer in Patagonia: The Remarkable Life of Santiago de Larminat - Miguel de Larminat
Children's Books
Everyone Loves Bacon - Kelly DiPucchio & Eric Wight
Pete the Cat and His Magic Sunglasses - James Dean & Kimberly Dean
All My Friends Are Dead - Avery Monsen & Jory John
Informational & Self-help
The Age of Cryptocurrency: How Bitcoin and the Blockchain are Challenging the Global Economic Order - Paul Vigna
Aliens: Science Asks: Is Anyone Out There? - Jim Al-Kalili
Historia del Tiempo - Stephen Hawking
The Sea Around Us - Rachel Carson
Good Clean Fun: Misadventures in Sawdust at Offerman Woodshop - Nick Offerman
The Book of Awakening: Having the Life You Want by Being Present in the Life You Have - Mark Nepo
The Blue Zones Solution: Living and Eating like the World's Wealthiest People - Dan Buettner
Effective DevOps: Building a Culture of Collaboration, Affinity, and Tooling at Scale - Jennifer Davis & Katherine Daniels
The Basic Laws of Human Stupidity - Carlo M. Cipolla
The Great Democracies: History of the English Speaking Peoples, Vol. IV - Winston Churchill
Originals: How Non-Conformists Move the World - Adam Grant
The Yoga Sutras of Patanjali - Sri Swami Satchidananda
The Power of Intention - Dr. Wayne W. Dyer
Sapiens: A Brief History of Humankind - Yuval Noah Harari
Adiyogi: The Source of Yoga - Sadhguru Jaggi Vasudev
Cracking the Coding Interview: 150 Programming Questions and Solutions - Gale Laakmann McDowell
The Bhagavad Gita - Eknath Easwaran
Head First WordPress: A Brain-Friendly Guide to Creating Your Own Custom WordPress Blog - Jeff Siarto
Siete Fuegos, mi cocina argentina - Francis Mallman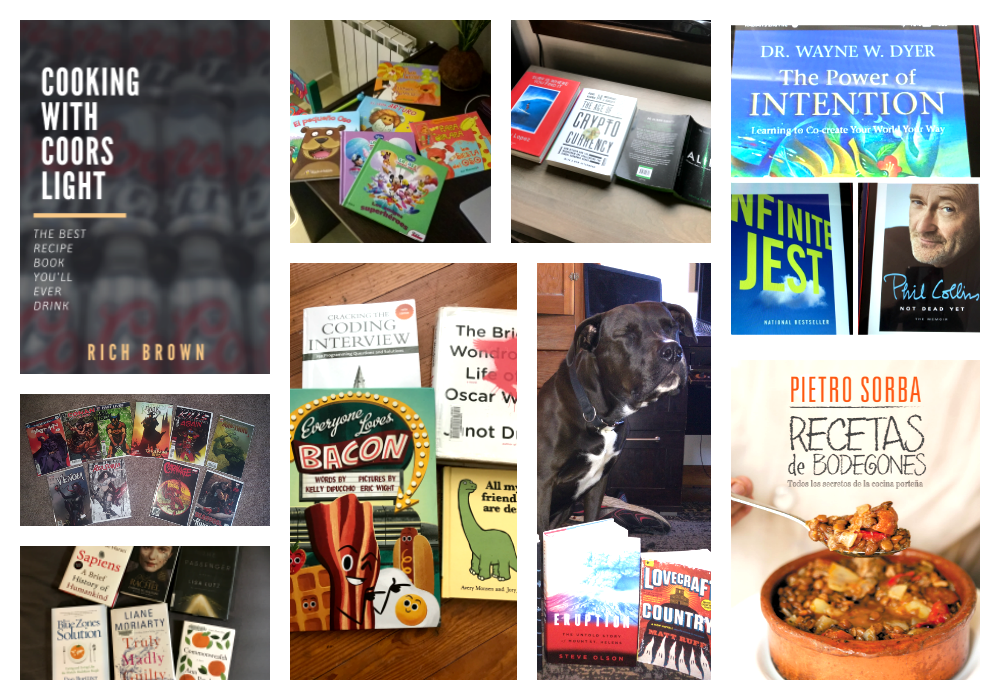 Topics: Extracirricular, Culture